Along Via Tiburtina,
halfway between Rome and Tivoli
Thanks to its location in a quiet area, Gu Hotel *** is the ideal starting point for visiting these two beautiful cities.
Check-in and check-out can be adapted to your needs
Moreover, the proximity to the A1 and A24 motorway exits allows you to take a break during long business or leisure trips to relax in a comfortable and peaceful location.
The hotel has two large private car parks, Wi-Fi and a 24-hour reception. The rooms are equipped with individual climate control and some have Sky programming, balcony or outdoor space.
We have an agreement with the Restaurant - pizzeria - grill "La Veranda" about 1 km away.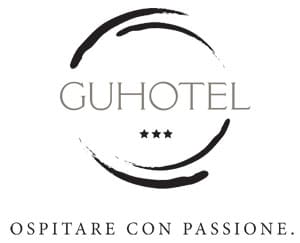 Rooms available also for Daily Use.
The hotel, recently enlarged and renovated, is located near Via Tiburtina and has ample private parking, Wi-Fi networks with Free high-speed Internet connection, breakfast room, 24-hour reception and garden for your relaxation.
The rooms are furnished in a modern style, spacious and comfortable, some with balcony others with terrace or patio. 
The hotel is located near Via Tiburtina, in Guidonia, with all services available nearby (supermarket, bus, cinema, tobacco shop, bar, gyms, etc.).
Business trip?
We are the right place if you are looking for a comfortable, family-friendly hotel for both long and short stay. We love to welcome our guests in an informal way, like at home, and it is a pleasure for us to chat with you when you return after a long day out.
Check in and check out: times can be adapted to your needs
The Gu Hotel *** is located 50 meters from the bus stop for Rome, Guidonia and Tivoli, 1.5 km from Tivoli Terme railway station, 4 km from Guidonia city center (train station and air force public exam site), 4 km from Settecamini/CAR exit of A24 motorway, and 5 km from Guidonia Montecelio exit on A1 motorway.